Legend has it that, while recording Led Zeppelin IV at Headley Grange, guitarist and producer Jimmy Page was sipping his afternoon tea as he happened upon a notebook, wherein singer Robert Plant had drafted what would become the lyrics to "Stairway to Heaven."
"Blimey, Robbie, you bloody nutter!" Page famously proclaimed, "Cook up another kettle-a Earl Grey, mate, this is brilliant! Did you write all this?" From an adjacent room, Plant's impassive response reverberated through the stony halls and into rock-and-roll history:
"Uh-huh... yeah."
A hot mic from John Bonham's drum rig in the foyer captured the now-famous phrase in all its resonant glory, the same resonance which would later electrify the percussion in Zeppelin's tour de force cover of Memphis Minnie's blues classic, "When the Levee Breaks".
Plant's incredible phrase never made the album, sadly, and would likely have been lost to history were it not for Rage Against the Machine's Tom Morello, who was determined to resurrect it from obscurity as he ambitiously donned the producer hat for the first time in the late nineties. After a bidding war over the rights to the recording with producer Sean Combs, aka Puff Daddy, Morello and Combs came to a compromise with Jimmy Page. The three legendary producers would collaborate on a re-creation. "Come With Me," from the 1998 Godzilla Soundtrack, was the result.
"It was just one of those spiritual experiences that come to pass in the studio from time to time," Morello later recalled, "its like you know God is with you there behind the console."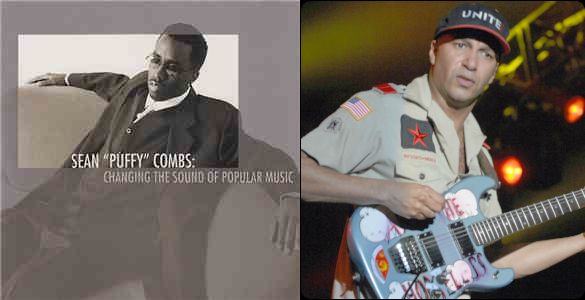 "Damn these hoes, you stepping on my toes," proclaims Combs, whose proselytizing delivery blends seamlessly with Page's orchestral re-imagining of Zeppelin's "Kashmir." From the opening bars, the drums luxuriate in the amount of room they are afforded by modern recording technology, helping the track achieve a balance between a seething chaos and a quietly devastating vulnerability from start to finish.
The song's bridge section, unimaginable in the 70's, stands out as a masterclass in both songwriting and sound design. The plangent vocal melody floats tenderly, almost gingerly over fine-grained arpeggios, buoyed only by Morello's foreboding bassline, at once recalling Massive Attack's "Angel" whilst honoring the bluesy pagan mysticism which serves as the track's creative wellspring.
Twenty-two years after its release, "Come With Me" stands as the defacto standard for 90s summer action movie soundtrack mega-hits, keeping company with the likes of Trisha Yearwood's "How Do I Live" and Aerosmith's "I Don't Wanna Miss a Thing."
"The whole process was legendary," Combs would later state, "Three of the best record producers of all time, collaborating as performers... man… no butting heads, no egos. Just music."
On May 9th, 1998, a live performance of the song for the 23rd season finale of Saturday Night Live would serve as a bookend for the whole experience, cementing its legacy as a cultural milestone and a testament to the abiding influence of Led Zeppelin.